Last week a friend sent me a press release from the United States Potato Board that announced their recent report on increasing potato consumption among Millennials. I then saw the report covered across the media, from Vox to The Hairpin. Every time the story was covered, the Board's report was at least a little mocked. I'll admit I laughed a bit too when I first opened the link – because somehow, talking about potatoes is a tad funny. But listen, friends and media: the Potato Board is just doing its job. You probably wouldn't laugh if the same press release was about a chocolate company.
I took a closer read through the Board's research this weekend and their approach is textbook brand strategy. This Nielsen research summary of the work explains what Millennial consumers eat, their attitudes toward food, and how potatoes fit into that context. It's exactly the kind of information I would gather to understand what's going on in a certain product category. I do reports like this all the time to help companies figure out what people want, what their brand can do, and how to make the two intersect in a meaningful way.
I don't have any agricultural boards as clients – but man, I wish I did. Agricultural groups have the same top concern as any big name brand: they need consumers to want their product. Whether it's potatoes or pajamas or paint, it's important to understand what consumers are interested in and how they think about a specific product category. In this case, it just happens to be a broader category of agriculture rather than a brand name. And since Millennials are the next big generation in terms of spending, of course the Potato Board wants to reach us. It just makes good business sense.
In my last post, I mentioned a book called The Tastemakers: Why We're Crazy for Cupcakes but Fed Up with Fondue. I hadn't planned on talking about it again so soon, but it fits really well with this potato example. In the book, author David Sax talks about many different kinds of food trends and food marketing – including produce marketing. Yes, carrot growers worked to reposition baby carrots as snack foods. Yes, apple farmers brand their apples to make them more premium. And yes, potato boards work to get people my age wanting more potatoes. It's not just something out of a "Portlandia" skit about a celery hypeman – this is really how food marketing can work.
I leave you with this brilliant meme, which came to me via the same friend actually, sending some encouragement as I tackled a hard task. Somehow, this picture still makes me smile, every single time.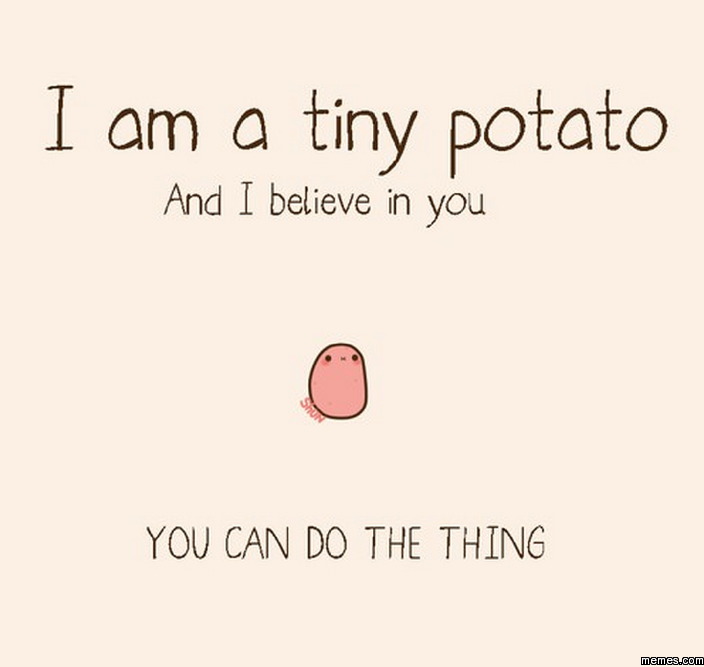 Potatoes, I believe in you. You can win over Millennials. You can do the thing!